I like Bob Hope as much as the next man — maybe more, depending on who's sitting next to me — and his pleasant voice filled many a childhood memory from movies and television, often with the ubiquitous renditions of "Thanks for the Memories" with the constantly shifting lyrics to match the occasion. But perhaps my favorite song was the one which one this year, "Buttons and Bows" from The Paleface.
As I said in v. 2 of WHO WON?!? An Irreverent Look at the Oscars: 1944-1952, "Bob Hope and Jane Russell star in the comedy western, The Paleface. Russell plays Calamity Jane working as a spy for the government; she marries cowardly dentist Hope as a cover story. The song "Buttons and Bows" was written for Hope by Jay Livingston and Leo Robin. Hope puts it across flawlessly, for what the song is worth – which is just a pleasant frill.
Here is himself singing what he probably knew was a hit song from the moment he first saw it:
The other official nominees included Harold Arlen and Leo Robin's "For Every Man There Is a Woman" from Casbah; Jule Styne and Sammy Cahn's "It's Magic" from Romance on the High Seas; Frederick Hollander and Leo Robin's "This Is the Moment" from That Lady in Ermine; and Ramey Idriss & George Tibbles' "The Woody Woodpecker Song" from Wet Blanket Policy.
Peter Lorre, singer Tony Martin, and the future Mrs. Herman Munster, Yvonne De Carlo, appear in Casbah, a musical remake of the Jean Gabin Pépé le Moko and the Charles Boyer Algiers. Lorre is fun as the policeman chasing criminal Martin, and all involved do a decent job. The music is fine, as we would expect from composer Harold Arlen (The Wizard of Oz). The nominated song, "For Every Man There Is a Woman" (lyrics by Leo Robin), is a blues-tinged number, which is one of Arlen's favorite idioms. The lyrics aren't quite up to top-notch levels, but they're not bad. Arlen's music is the best part of the song.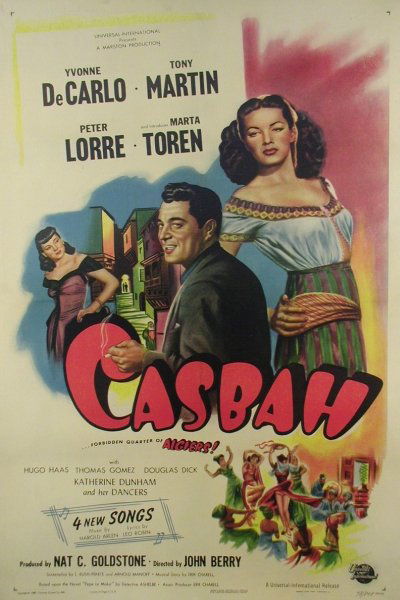 Here's DeCarlo having a go at it:
Presented in a quiet fashion in Romance on the High Seas, "It's Magic" is a sweet little ballad that seemed to show up in every lounge singer and crooner's act for the next twenty years (I prefer Dinah Washington's version). Doris Day doesn't do half-bad with it. Jule Styne and Sammy Cahn were Frank Sinatra's favorite writers for a time; here, Day benefits from their talents.
Doris Day, take it away!
That Lady in Ermine was the last movie Ernst Lubitsch ever worked on; when he died on the casting couch, Otto Preminger took over. One wonders what a healthy Lubitsch might have done to bring Betty Grable out of the cloned films she almost always made. The complicated plot doesn't help much – Grable plays a dual role as a nineteenth century bride, aided by herself as a portrait of her ancestor which comes alive. As for the music, I've already forgotten it. The nominated "This Is the Moment" couldn't be more tedious. Frederick Hollander and Leo Robin haven't got a clue here how to write a memorable song – so no nod should be here, for making me nod off.
And here is…now wait a minute, what were we talking about?
I can't help but snort at the thought of "The Woody Woodpecker Song" getting a nomination. The song was an unexpected hit inserted as an afterthought into the Woody cartoon, Wet Blanket Policy. Since the song wasn't written for the cartoon, once again, the Academy violated its own rules for this category. If you've ever heard the song, you know it's fun but trivial, as more and more popular music was becoming in the late Forties and early Fifties (rock'n'roll did indeed have something musically offensive to rebel against).
Here's the whole cartoon!
And once again, I quietly point at a song the Academy somehow ignored. How could they not have nominated Irving Berlin's "Steppin' Out with My Baby" from the Fred Astaire/Judy Garland Easter Parade? The song is raucous, ebullient, and classy, celebrating the thrill of a night on the town with the beloved
And here's Mr. Astaire:
You can find more in WHO Won?!? An Irreverent Look at the Oscars: 1944-1952:http://www.amazon.com/dp/B00PKK8MBY
And now, please vote!