In case you don't know about these Special Features, these are the pages where I punish myself and reward the reader, because I didn't include a handful of categories in my published books (both for space, and due to my own lack of confidence and training in these specific fields).
I may be feeling considerably cockier and less insecure over these, having written all these Special Features now — and this is #30, which you'd know if you were paying attention. And if you aren't, WHY aren't you?!? Don't you think combining this much guilt, public penance, and egotistical self-flagellation DESERVES your attention?!?
So, on to the now Secret Seven categories: Best Documentary (Feature and Short), Best Short Subject (One-Reel and Two-Reel), Best Sound, and Best Editing, along with the Best Foreign Language Film (which, again, has always felt like the Academy setting up the children's table for the non-English films, thus banning much of the world's great filmmakers from the Academy's dinner table conversation and general backslapping.)
Actually, I have to recant at least part of my guilt. The Secret Seven is now the Secret Five. The Academy, recognizing the shifting commercial market's demands, and the silliness of continuing categories which were rapidly disappearing, collapsed the Best Documentary to just the Feature, and then combined the One-Reel and Two-Reel options down to a single one: Best Live Action Short.
Yay! Less work (and guilt! and penance! and whipping!) for me! Thank you, Academy!
Let's get small first!
Best Live Action Short:
The Wetback Hound won, over A Chairy Tale, City of Gold, Foothold on Antarctica, and Portugal (the short, not the country…).
The Wetback Hound is yet another example of a title nobody would willingly use today, due to the racist implications. Once again, Disney struck Oscar gold. The Wetback Hound was Larry Lansburgh's baby; he produced and directed a number of films about animals in the Fifties and Sixties. In this short, Paco (you may be starting to hear the racist tones here too) is a hunting dog who doesn't seem to be able to focus on hunting.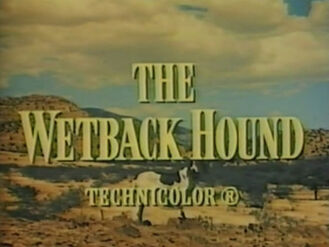 Here's the video in its entirety (unfortunately the last minute or so is lost):
The next nominee, the Canadian A Chairy Tale, uses a live actor and chair, shot frame by frame, for an animation process called "pixilation." Claude Jutra tries to sit on a chair; the chair, obstinate for some reason, tries to sit on him instead. Norman McLaren (Neighbours) directed; the music of Ravi Shankar and Chalur Lai keep the proceedings moving along for both man and furniture.
Here is the short in its entirety:
City of Gold is another Canadian entry, this one showing Dawson City during the Klondike gold rush of the 1890s, with still photographs providing most of the visuals. Pierre Berton directed, and his innovative moving camera showed future documentarian Ken Burns how to make photos come to life on the screen.
Here is the entire short:
Foothold on Antarctica was financed by British Petroleum; director Derek Williams, who has had a career as a documentarian. shot this history of the conqueror of Mt.Everest, Sir Edmund Hillary, and the leader, Dr. Vivian Fuchs — careful how you say that! — as they tried to cross the entire frozen continent. (Hillary later reached the North Pole as well, so he was the first human being to touch the top of Mt. Everest and the two poles!).
Here is the short:
As for Portugal, we'd probably be better off going to the country, because the short has vanished off the face of the planet, like Atlantis or Mu. Actually, Portugal has simply remained in the Walt Disney Company vaults, as it was part of their People and Places travelogue series of shorts, and those have largely been unseen for decades. Longtime Disney stalwart Ben Sharpsteen directed. I'd love to see it — what do you say, Disney? Time for a revisit?
Of these shorts, the one that amused me — and has the capacity to effortlessly reconnect with audiences today — was A Chairy Tale, which hasn't aged at all (unlike The Wetback Hound, which is racist in ways any reasonably aware audience could spot, before getting to a typically warm and fuzzy story of the friendship between a hound and a baby deer). A Chairy Tale would have been a much better choice by the Academy.
Best Documentary Feature:
Albert Schweitzer won, over On the Bowery and Torero!
Albert Schweitzer took footage of the famed philanthropist, with Fredric March providing his voice; Burgess Meredith narrated. The shooting on location was apparently quite difficult.
Here is the film in its entirety:
On the Bowery is a bit of a puzzler. While he shot in the skid row of the Bowery in New York, director Lionel Rogosin also created a fictional story to follow (with writer Mark Sufrin), which begins to beg the question of where a documentary's depiction of brutal living conditions edges over into something that isn't a documentary because a fictional narrative has been overlaid. I do think the Academy was quite right to nominate On the Bowery, which needs to be more widely seen, but the purist in me objects as well.
Here is the full film — why don't you take a look and let me know what you think:
Torero! is more of the kind of documentary film that sticks to the facts, telling the story of Mexican bullfighter Luis Procuna — and starring the real bullfighter. And real bulls…
This appears to be an excerpt:
Of the three, it's easy to see why Albert Schqeitzer won — hard to argue against a philanthropic subject, star power, and on-site hazardous filming. Were On the Bowery a little less fictional, I could see arguing for it instead, due to the seriously gritty textures.
Best Sound:
Sayonara won, over Gunfight at the O.K. Corral, Les Girls, Witness for the Prosecution, and Pal Joey. Thankfully, I've seen them all. Equally thankfully, most of them are worth watching again — and listening to again.
For the life of me, I can't figure out a single aesthetic reason for Sayonara to have won this award. Because some of the words they recorded are Japanese?!? For the Japanese music? Hard to say, but I would be inclined to disagree here.
Well, this one seems a little more obvious — gunfire is always popular at the sound branch, and with the voters in general. Still, not all that inventive.
Les Girls? Les NO. Knee-jerk nomination for a musical, which always seems a bit obvious to me for this category.
This one actually makes sense to me, if only because of the unique, individual qualities of at least three of the stars, who are among the most distinctive voices ever records: Marlene Dietrich, Elsa Lanchester, and the inimitable Charles Laughton.
The final official nominee was another musical, and a considerably better one: hard to argue with a film that so effectively caught Sinatra's voice at its richest point.
There are a few possibilities for nominations that the Academy overlooked.
First, I am surprised that the big winner that year didn't grab a nomination, if only for the enormous explosion at the end, which follows the quiet, anguished whisper "What have I done?!?"
Second, Paths of Glory, for the intense sounds of the battlefield:
Third, A Face in the Crowd, for the howls and indecencies of Andy Griffith:
And fourth, 20 Million Miles to Earth, for the invented sound of Ray Harryhausen's best alien, the Ymir:
Of these, I would give a gentle nod to Witness for the Prosecution, simply because no other film is so much fun to listen to this year.
Best Editing:
Want to know the nominees for this one? Look at Best Sound, take out Les Girls, put in The Bridge on the River Kwai — which won — and you've got the same slate. I think the Academy got this one right. Editing, on an epic scale, yet intimate, on a human level. I might add in Paths of Glory, for the battle scenes.  and 12 Angry Men, for helping to keep a one-set movie interesting, but it's very hard to deny the power of Kwai.
Best Foreign Language Film:
So in this second year of this being a competitive award rather than honorary, Nights of Cabiria won out over Mother India, The Devil Strikes at Night, Nine Lives, and The Gates of Paris.
Insanely difficult to argue against the Academy here, whose choice for Italy and director Federico Fellini seems insightful and wise to the point of papal infallibility.
Looking at the other nominees, have any of them survived in the typical cinephile's memory, much less the average movie buff?
Mother India is from India and director Mehboob Khan; Mother India was a major production, both in terms of cost and profits. In addition, the film is a kind of celebration of Indian culture, and may be the most successful rallying cry for pride in one's nation ever shot. Mother India remained in theaters — uninterrupted — for decades.
While Mother India hasn't traveled well to most other cultures, one really has to see it as a national tourist attraction, a kind of celluloid Statue of Liberty. You can watch it here:
The Devil Strikes at Night is a German film by Robert Siodmak, who spent years in America making movies (including the classic The Killers). The Devil Strikes at Night tells the story of a serial killer, but ultimately, Siodmak is reaching for a critical appraisal of German culture.
For those of you who speak German, here is a full cut:
Nine Lives is a patriotic recreation of resistance fighters resisting and fighting the Nazis; like Mother India, Norway has kept this film in the category of national treasure for decades.
You can, as with Mother India, watch this one in its entirety:
And finally, The Gates of Paris, directed by René Clair (À nous la liberté). An artist (named, appropriately enough, Artiste) and his friend meet a girl and a criminal; bad things happen to broken people. Worth watching.
\
For the Francophile, here is a segment:
While individual countries might object, I do think the Fellini has outlasted any of its competitors this year, and deservedly so.
So that's 1957! Thanks for coming by!
Feel free to make other suggestions below in the comments.
As always, I have much more to say in my book: http://www.amazon.com/WHO-Won-Irreverent-Look-Oscars/dp/069232318X/ref=asap_bc?ie=UTF8